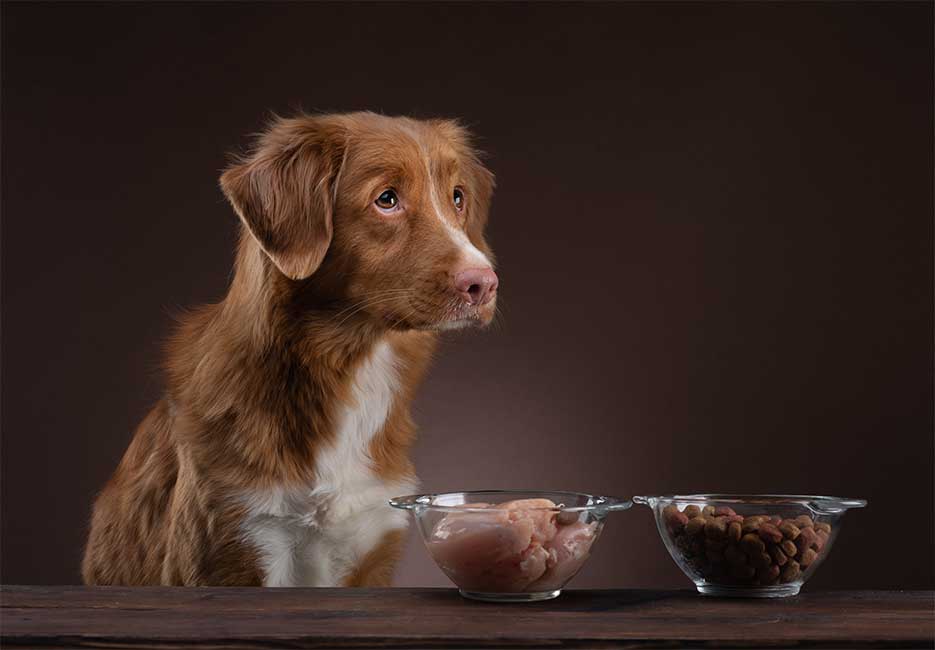 Is Duck Good For Dogs?
Some pet owners may be looking for alternatives to beef, lamb, salmon dog food or chicken dog food. And their question is: can dogs eat duck meat?
The answer, of course, is a resounding yes!
Duck meat is a great source of important nutrients that dogs need, including protein, healthy fats, omega-3 fatty acids, iron and antioxidants. Switching to a healthy, well-balanced duck dog food formula may help to clear up any digestive issues that your dog might be experiencing.
What's more, duck, not commonly found in dog food formulas, is a great alternative for dogs that have chicken or beef allergies.
However, it's important to note that not all duck dog foods are created equal. Though the dog food bag might say "Duck Meat" on it, there's a good chance that it contains low-quality meat by-products that are not actually healthy for dogs.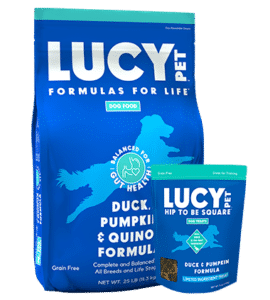 At Lucy Pet Foods, we believe your pet deserves the only very best nutrition. This is why our Formulas for Life™ Duck, Pumpkin & Quinoa dog food and Duck and Potato Limited Ingredient Diet Formula contain premium duck meat as the first ingredient, and zero meat by-products, fillers or artificial ingredients of any kind.
What's more, our Formulas for Life™ duck dog foods also feature a blend of healthy, high-energy complex carbohydrates such as quinoa and potatoes. They'll ensure your dog gets the fuel they need to run, play and live their best dog life!
Make the switch to Lucy Pet Foods today and experience the difference!
Benefits of Duck Meat for Dogs
Duck meat contains a whole host of powerful nutrients, including: 
Protein

Healthy monounsaturated and polyunsaturated fats

Antioxidants like iron and selenium

Omega-3 Fatty Acids

Helpful B vitamins
These nutrients can provide several health benefits for your dog, such as:
Improved energy levels

A more resilient immune system

A stronger musculoskeletal system

Better cognitive function in older dogs

Improved heart and kidney function

Reduced anxiety and hyperactivity
Below is a full rundown of the health benefits of duck dog food:
Duck is a Healthy Source of Protein
Protein is an essential nutrient required for building and replenishing connective tissue, hair, skin and nails. Also, protein plays an instrumental role in developing strong immune and musculoskeletal systems.
What makes duck such an excellent protein source for dogs?  
Duck meat is a near-perfect source of protein because it's lean, easy to digest, and is low in saturated fat. And while low in saturated fat, duck meat is high in healthy monounsaturated and polyunsaturated fats, making it an excellent source of energy for active dogs!
Duck is Full of Omega-3 Fatty Acids
Duck meat contains a high number of omega-3 fatty acids. These are crucial for proper brain and eye development in younger dogs and important for maintaining cognitive function in older dogs.
And Duck fat is rich in healthy monounsaturated and polyunsaturated fats. This makes it an ideal choice for active dogs who love to run and fetch at the dog park!
Duck Contains Important Antioxidants
Duck meat is rich in antioxidants like zinc and selenium. They're important to help your dog's immune system and protect him or her against bacterial infections, viruses, parasites and other pathogens.
These antioxidants not only bolster the immune system but they can also improve thyroid function. This is very important for preventing health problems such as hair loss, dry or irritated skin and indigestion.  
Duck is rich in Iron & Vitamins
Last but not least: duck meat contains a significant amount of iron.
Iron is responsible for several physiological processes, including the formation of red blood cells and hemoglobin.
Hemoglobin (what gives blood its color) is an important protein responsible for carrying oxygen and nutrients through the bloodstream. However, when a dog is iron deficient, he or she will be "starved" for resources, especially during strenuous activity, and become overly lethargic, tired and listless.
Does Formula Matter? (Hint: Yes it does!)
It's important to pay close attention to the ingredients used in your dog food. When it comes to duck meat, there are a few things to watch out for—namely, dog foods with real meat vs. dog foods with meat by-products.
What's the difference?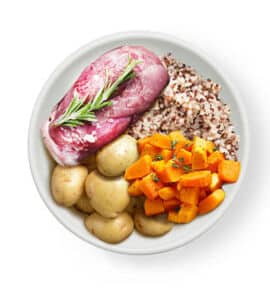 As we explained in our Blog Post on "How to Pick the Right Dog Food", you should start by selecting a dog food that contains the right protein source. But then look for supporting ingredients that provide all the other nutrients your dog needs to be healthy.
In fact, the formulation of your chosen dog food is something that cannot be overlooked. The main ingredient (in this case, premium duck protein) is of course vital, but the formula surrounding it is also extremely important. It can affect your dog's health in several ways.
To ensure that our duck dog foods are as healthy as possible, they include our proprietary Prebiotic Balanced Fiber™ blend which supports optimal gut health and digestion.
This blend features superfood ingredients like pumpkin, quinoa and flaxseed. Based on 40 years of research by renowned scientist and animal nutrition expert, Dr. George C. Fahey, it can't be found anywhere else!
All this makes Lucy Pet's Formulas for Life™ duck dog food formulas a great choice for pet owners! They enrich their dog's diet and bolster their immune system with proteins, vitamins, minerals and complex carbohydrates.
Try Lucy Pet's All-Natural Duck Dog Food Formulas For Life
When it comes to deciding on the best duck-based food for your dog, there's one clear winner: Lucy Pet's Formulas™ for Life duck dog food.
Lucy Pet's premium, all-natural duck dog food formulas feature duck as the first ingredient (no duck meat by-products!) and healthy, complex carbohydrates like potatoes, quinoa and more.
Our Formulas for Life™ dog foods are formulated to include everything your dog needs to thrive. Perfect for dogs of all breeds AND life stages. From puppies to adults and even seniors, Lucy Pet Foods are truly the Formulas for Life.
So, make the switch today and treat your dog to Lucy Pet's Formulas for Life™ dog food!