Lucy Pet now offers Fiesta® Pet Bowls, all made in the USA! 
Lucy Pet now offers Fiesta® Pet Bowls, they're the perfect companion to Lucy Pet Formulas for Life™ and our new Kettle Creations™ Stews for dogs and cats! Because Fiesta® ware is the most collected dinnerware in the history of the tabletop industry, we thought it would be a great choice. Proudly made by local potters in West Virginia by The Homer Laughlin China Company since 1936, Fiesta ware is a family business that provides the kind of quality that Lucy Pet customers appreciate.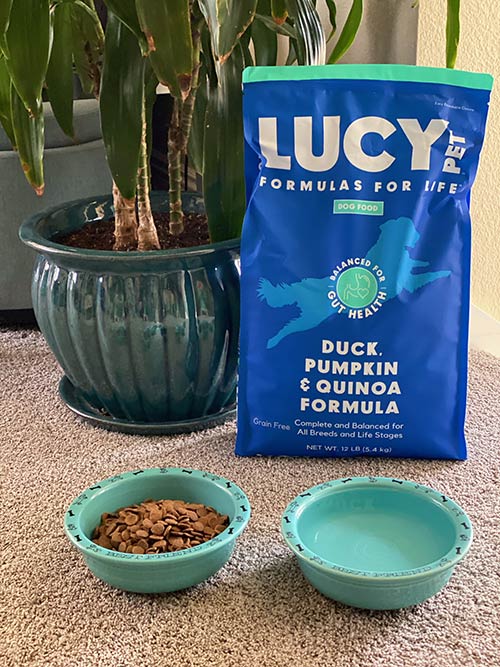 Serve your pet in style with a set of Fiesta's special and unique pet bowls!
We also carry a variety of durable and stylish saucer plates that are perfect for your kitty to enjoy our new Lucy Pet Kettle Creations™ scrumptious stews. And if you use our stews as a topper or mixed with dry food, clean-up is a breeze with Fiesta® bowls and saucers, they wash easily or can go right into the dishwasher!
Stumped on what to give to the family pet for the holidays or a birthday? Fiesta® pet bowls and dishes make a perfect gift for a grand-dog or grand-cat or any four-legged family member. Because we have a large selection of colors and styles, you'll find the perfect gift!
Fiesta® Pet Ware is recognized by the vibrant colors and eye-catching designs!
Their vivid collection allows you to coordinate your home with a variety of coordinating colors or to mix-and-match for fun color combinations. Also, you'll find Fiesta's pet bowls are stylish and fun, with so many options in colors, designs and sizes. Whether you prefer a fun, whimsical pattern or a stylish color to match your home decor, your pet will dine in style. 
What's truly great about the Fiesta pet ware line is how sturdy and durable the pieces are.
Fully vitrified ceramics: industrial-strength

Will not absorb odors or moisture

Lead-Free

Microwave Safe

Dishwasher Safe

Made in the USA

Chip resistant: 5-year chip replacement warranty by the Fiesta® company.
Use and Care
Wash your pet's food and water bowls regularly. 

Dishwasher Safe

Clean with warm water and detergent.

Abrasives should never be used to clean the bakeware surface.

Dark glazes may show surface abrasions more readily.