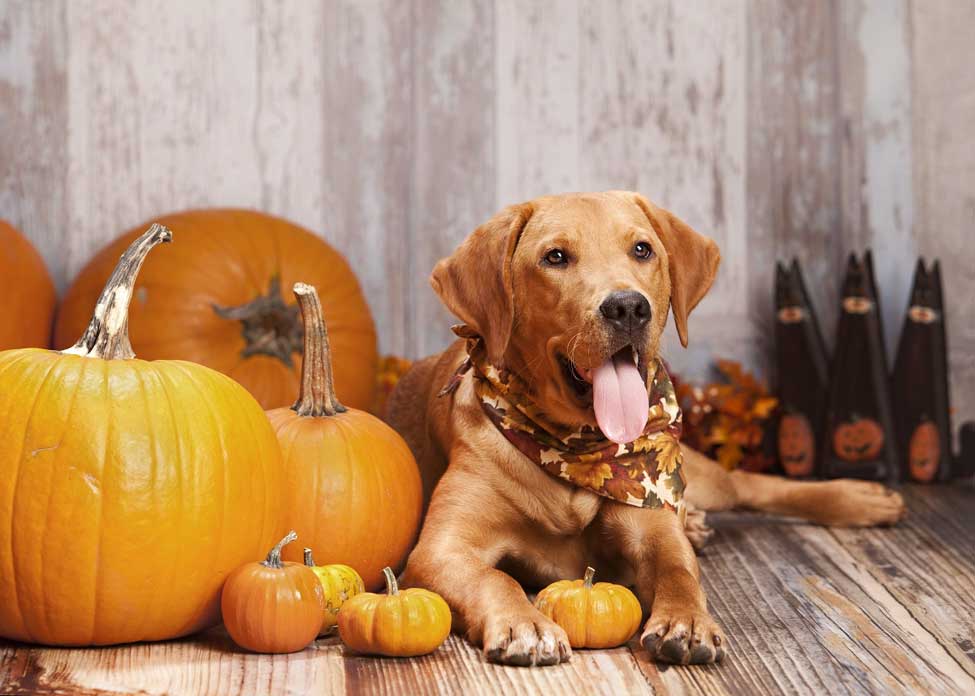 There are so many different ways we show our dogs how much we love them – from spoiling them with toys and special beds designed just for them, to tasty doggie treats and chews. Some folks love to spend a day at their favorite dog park so their beloved fur-baby can explore things on his own turf, while other pet parents may enjoy quality time snuggling on the sofa with their four-legged friend. However you choose to spend time with your favorite fuzzy pal, one thing's for certain: we want to give them the best nutrition possible to ensure a long and happy life! But with so many dog food choices available, it can be difficult sometimes to determine the best type of food to feed our faithful companions. For example, there has been quite a bit of research that supports pumpkin as a really good nutritional source for dogs – but how do you incorporate this winter squash into your pup's diet? In this article, we'll discuss the top 5 benefits of pumpkins for dogs, including dietary suggestions and tips to make this healthy ingredient a part of your pooch's mealtime!
Did You Know…
While many people think of them as a vegetable, pumpkins are actually a fruit. In fact, this squash is part of the Cucurbitaceae plant family, according to the Missouri Botanical Garden. This vast family of plants includes over 900 species, from cucumbers to watermelons, and, you guessed it – the pumpkin.
Pumpkin FAQs: Is Pumpkin Okay For Dogs To Eat?
You may be wondering why you'd feed a dog pumpkin – or if it's ok for them to eat. Actually, pumpkin is not only a plentiful food that's easy to come by, but it's tasty and – surprise – packed with nutrients that can benefit both humans and their faithful companions. This autumnal squash is not just for pies at Thanksgiving and spiced lattes, after all – read on for frequently-asked questions about this fascinating superfood and how it can benefit your dog's diet:
Q: Why is pumpkin good for my dog?
A: According to the United States Department of Agriculture's Food Data Central database, one cup of cooked pumpkin is not only rich in vitamins and minerals – including Vitamin A, Vitamin C, Iron, Phosphorus, Folate, and Magnesium, to name a few – but offers a low-calorie source of nutrition. This is beneficial to dogs of all breeds, ages, and sizes, and an especially good choice for pet parents counting calories for overweight pooches. In addition, pumpkin is high in potassium, which offers a host of health perks – besides regulating your dog's blood pressure and assisting in metabolism, it also supports canine muscle health.
Q: How can I incorporate pumpkin into my dog's diet?
A: Although there are several commercial brands of dog food boasting pumpkin on their list of ingredients, it's important for dog owners to be a bit more discriminatory when shopping for premium dog food. Many supposed 'healthy' dog foods actually contain artificial ingredients (colors, chemical flavors, etc) that are more harmful than beneficial. Therefore, look for dog food formulas that are free from animal by-products and instead contain only quality whole foods and healthy ingredients. Ingredients to add to your dog's diet can include quinoa, vegetables, real meats, and fish.
For the human "dog moms and dads" who enjoy whipping up a batch of healthy treats at home, lucky pups can enjoy pumpkin in a variety of ways – from gluten-free sweet potato pumpkin bites to peanut butter pumpkin biscuits, there are a number of nutritious dog treat recipes industrious pet parents can make. However, for dog owners less inclined to cook – or folks who are simply seeking a healthy dog treat that's both convenient and portable – look for pumpkin-based dog treats for an easy way to give your pooch the best doggie snacks wherever you go.
Did You Know…
Pumpkin for dogs can help with a number of different digestive issues, however, be sure to talk to your vet before feeding your pup a new supplement for dogs. Once you've been given the green light, be sure to give your pooch pumpkin that's intended for dogs only – in other words, even though he might be begging for a taste of your pumpkin muffin, pie, or favorite chai pumpkin latte drink, they're a no-no for curious canines. Instead, opt for canned pumpkin (but be sure they're not canned pumpkin pie filling – the spices are no good for your dog's digestive tract). You may also consider cooked pumpkin pulp or pumpkin puree, or opt for dog foods such as Lucy Pet Formulas, which features several varieties that contain dog-friendly pumpkin ingredients.
Top 5 Benefits Of Pumpkin For Dogs: What Every Dog Owner Should Know
As we've reviewed, there are a host of benefits to feeding your pooch dog food, treats, and snacks with pumpkin listed in the ingredients. While some owners prefer to prepare homemade meals for their dogs, most people don't have the time to be a short-order cook for their pets. Fortunately, there are plenty of excellent natural dog food options to choose from that are made with pumpkins, such as Lucy Pet Salmon, Pumpkin and Quinoa Dog food. Here are the top 5 benefits to feeding your dog pumpkin-laden foods at mealtime:
1)         Protects immune system: Recognized for its antioxidant properties, pumpkin is a powerhouse for a dog's immune system – featuring Vitamin C, A, and E, as well as a host of antioxidants, it has been shown to prevent certain types of cancer from developing in dogs. Choosing food sources that include pumpkin can not only boost a dog's immune system but possibly increase their lifespan.
2)         Controls parasite development: As anyone who has owned a pet before, discovering they're the victim of a parasite – whether it's a tapeworm or other form of parasite – is upsetting, to say the least, as no one wants to see their dog or cat suffer. However, there's more good pumpkin news for both dogs and their owners: these fleshy fruits have also been known to actually repel parasites! Whether you choose to grind up pumpkin seeds or canned pumpkin into your dog's diet or feed him dog kibble that contains pumpkin, the amino acid that occurs in pumpkin is actually toxic to many dog parasites. As in the case of any parasitic infestation, be sure to bring your dog to a vet for professional diagnosis and course of treatment. Note that consuming pumpkin will not kill parasites once your dog is infested, only treatment from your veterinarian will treat that condition.
3)         Promotes digestive tract regularity: Rich in dietary fiber, pumpkin is also excellent in promoting good gut health and regulating 'normal' bowel movements in dogs. Keep your dog 'regular' and incorporate pureed pumpkin into foods to prevent constipation and dog diarrhea.
4)         Prevents against urinary incontinence: Another benefit of pumpkins includes your dog's urinary tract health – known to boost health and potentially even prevent urinary incontinence (i.e., the reduced ability to hold in urine), this omega-3, antioxidant-laden squash can also support your pet's urinary tract health. In addition, the fatty acids also boast anti-inflammatory properties, which may aid in dislodging kidney stones.
5)         Supports eye health: Essential for eye health in dogs as well as humans, Vitamin A is an essential nutrient required for good vision. Pumpkin is packed with Vitamin A, making it a great go-to food to support your dog's optimal eye health. Protect canines against eye degeneration and night blindness by feeding your pup kibble, treats and other foods that feature pumpkin in the ingredients.
In addition to these benefits, research has also shown that pumpkin is an excellent source of hydration for dogs. It's also great at keeping your pooch's skin and coat smooth and supple and can be an effective weight-loss aid. Last but not least, your dog will love it simply for the taste!
Pumpkin: A Dog's (Dietary) Best Friend
As we've seen, supporting your dog's gut health and immune system with natural sources of dietary fiber – such as pumpkin – can ensure his longevity and overall quality of life. Combined with lean proteins found in duck and fish, vitamins and minerals from a variety of natural ingredients, and complex carbs like chickpeas and quinoa, Lucy Pet Formula dog foods use only the very best nutrients to feed your furry pal. What's more, every purchase you make helps animals in need by contributing to the Lucy Pet Foundation – so pet parents can feel good that they're not only providing their dog with the finest nutrition available but making a difference in another animal's life.
Sources Cited: