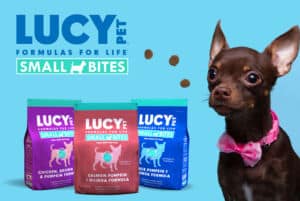 Lucy Pet Foods™ Small Bites for Small Breeds
Lucy Pet™ Small Bites for Small Breeds is now made in little kibble for toy and small breed puppies and adult dogs! The same great Lucy Pet Formulas for Life™ is formulated with the same proper nutrition but in smaller bites, along with our advanced P.B.F. Prebiotic Balanced Fiber™ to produce an optimal environment in the digestive tract that supports proper gut health.
Little Kibbles: Why We Made our Lucy Pet Foods™ Formulas for Small Breed Dogs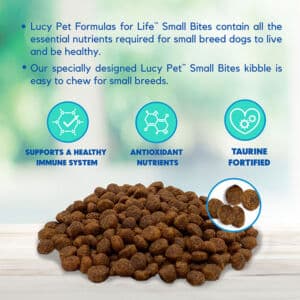 Our dry food for small breeds is smaller than our regular formulas as it's made with the size of the dog's jaw in mind. Did you know that small breeds can be more prone to digestion issues, and even dental problems? Therefore, feeding a diet specific to their size can help manage these difficulties.
Little Kibble for Little Mouths
We made Lucy Pet™ Small Bites for Small Breeds in the right size for little mouths. Small breed dogs have teeth that are packed together more tightly and are prone to more dental problems. Eating large kibbles can cause them to keep bits lodged in between teeth, which can allow bacteria to grow and even put them at higher risk for gum disease. If a small breed dog can eat kibble that is small enough for their teeth to chew and swallow, this will also help keep their teeth clean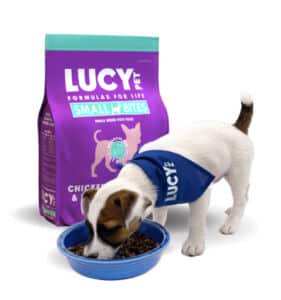 !
Little Kibble for Better Nutrition
Lucy Pet Formulas for Life™ is formulated with the proper nutrition for small breeds. Even though they require less food, toy breeds have fast metabolisms and require a nutritious diet to ensure that they stay as healthy as possible and can enjoy the best quality of life. Plus Lucy Pet™ Small Bites for Small Breeds nourishes your small breed dog's total health, naturally. Lucy Pet Formulas for Life™ is guided by science and verified nutritional research, using natural ingredients. Every Lucy Pet kibble is designed to contain all the essential nutrients required to live and be healthy.
But that's not all. Lucy Pet Formulas for Life™ has many healthy ingredients for small breeds.  We use premium lean meats like duck and salmon, and our P.B.F. (Prebiotic Balanced Fiber) offers a balance of superfoods. These include pumpkin, quinoa, sea kelp, chickpeas, carrots, sweet potato and chicory root to help the overall balance of the small breed dog's health.
Does the Formulation of Pet Food Matter? Yes it does!
It's important to pay close attention to the ingredients used in your dog food. When it comes to protein, there are a few things to watch out for—namely, dog foods with real meat vs. dog foods with meat by-products. We have three formulas to choose from:
Duck, Pumpkin & Quinoa Grain-Free Formula Small Bites
Salmon, Pumpkin & Quinoa Grain-Free Formula Small Bites
Chicken, Brown Rice & Pumpkin Limited Ingredient Diet Small Bites
What's the Difference?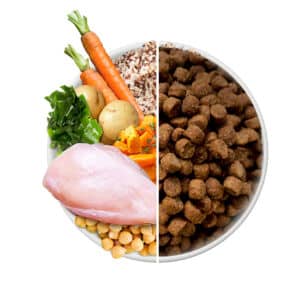 As we explained in our Blog Post on "How to Pick the Right Dog Food", you should start by selecting the small breed pet food that contains the right protein source for your pet. Also look for supporting ingredients that provide all the other nutrients your small breed dog needs to be healthy.
Lucy Pet Foods™ offers our three most popular formulas in a smaller size kibble! The main ingredient is, of course, vital but the formula surrounding it can also extremely consequential. Which is also why we carry 'grain-free' as well as 'whole grain' options. 
To ensure that our pet foods are as healthy as possible, they include our proprietary Prebiotic Balanced Fiber™ blend which supports optimal gut health and digestion.
This blend features superfood ingredients like pumpkin, quinoa and flaxseed. Based on 40 years of research by renowned scientist and animal nutrition expert, Dr. George C. Fahey, it can't be found anywhere else!
All this makes Lucy Pet's Formulas for Life™ pet food formulas a great choice for pet owners! They enrich their pet's diet and bolster their immune system with proteins, vitamins, minerals and complex carbohydrates.