Regardless of the temperature where you live, the signs that Autumn has arrived are everywhere. Bright orange pumpkins, gourds, scarecrows, bales of hay and the leaves all starting to change color. Beautiful hues of orange, red, brown, yellow, and green are making things look festive. Lucy, our namesake pup was on hand for a photo shoot, and she is featured on our new Fall in Love with Lucy Pet signs and banners. Lucy reminds us all about the importance of adoption, rescue, and spay & neuter, after all, she is the reason the Lucy Pet Foundation was started.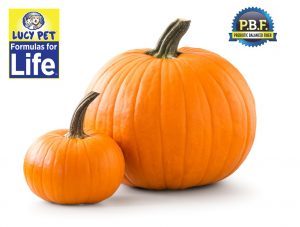 Here at Lucy Pet, we are developing all sorts of new and innovative products to keep your pets healthy. Just a few months ago, we introduced our Formulas for Life dog and cat foods. Our formulas all contain pumpkin as part of our P.B.F Prebiotic Balanced Fiber blend, which optimizes digestion and gut health. Pumpkin is also nutritious, healthy and excellent pets with a sensitive tummy. Lucy Pet products are only available in pet specialty stores, if your local pet store doesn't carry Lucy Pet, ask them to order it for you. Coming soon are three new, delicious dog treats, sure to make your dog happy. Our nutritionists and R&D team are busy developing a new line of canned cat and dog food to complement our dry food, so stay tuned for more new products from Lucy Pet.
Whether you are feeding Lucy Pet food, or using our Cats Incredible litter that stops ammonia from forming, or our range of luxury shampoos and conditioners, you are helping animals. Everything from Lucy Pet is part of our Products with a Cause program. We are committed to helping animals by donating to the Lucy Pet Foundation, whose mission is to reduce pet overpopulation and support other animal welfare causes.
This Autumn, "Fall in love with Lucy Pet" by asking for our products at your local pet store, you can make a difference for animals by supporting Lucy Pet.