Learn how to Make a Holiday Wreath with Surfin' Jack and Sasha!

 
The Holidays are the perfect time to get the family together and decorate the home for the season. And with our resident pups Surfin' Jack and Sasha here to help, we couldn't think of better project than making a Holiday Wreath. DIY Holiday crafts are so much fun, and really help pass the time while we're all at home. We made a special video with Surfin' Jack & Sasha at work, you can watch it below! A natural, pooch-made wreath is a gorgeous way to decorate the entrance, and it's so easy to craft! If you have ribbons and ornaments on-hand from Christmases past, a home-crafted wreath is a furr-tastic way to save money this year! But don't forget, if you have your resident pups helping, you better have some Lucy Pet Treats on hand!
What you'll need:
Real Boughs or Branches
You can trim pieces of pine boughs from the bottom or back of your Christmas tree to make the wreath itself. We cut these from our favorite tree right outside our door!
Wireframe Form from your local craft store
Crafting Wire
Scissors, and a Wirecutter or Pliers
And of course, Dog Treats!

Jack will help us on the first part of our Wreath Making! Lay the tree boughs in the same direction, one over the other and keep repeating all the way around. Wire them down tightly as you go, and cut your wire care-fur-ly!
Once the branches are attached, you might feel it isn't complete until you finish it with a large, lavish bow and some decorations.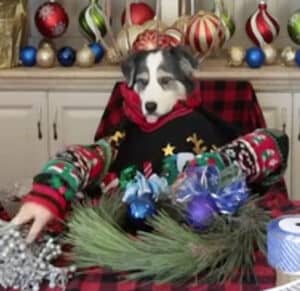 Luckily, Sasha has a much better sense of decorating our Holiday Wreath, so she'll take over for Jack on the last part. To make a bow out of wired ribbon make loops and then bind it at the bottom and spread the loops out to form a nice bow. To finish the decoration, you can take whatever baubles that you have and wire them onto your wreath.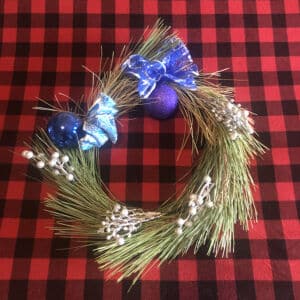 And you're done. Great job, kids!
Watch the full adorable video here with Surfin' Jack and Sasha!