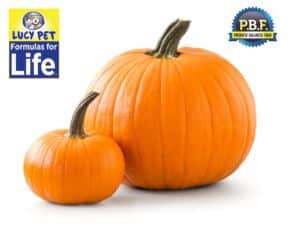 Our nutrition team has chosen each ingredient in Lucy Pet Formulas for Life™ for a specific purpose. As always, we begin with the nutritional needs of a cat or dog, based on AAFCO nutritional requirements. We analyze the actual nutrient profile of raw ingredients and use an advanced nutritional database to study how all the combined ingredients in a formula will contribute to the nutrient requirements for the health of a cat or dog. We use pumpkin as part of our P.B.F. Prebiotic Balanced Fiber blend, which has a variety of fibers and prebiotics for gut health in cats and dogs.
Pumpkin is not only delicious, it provides multiple nutrient benefits to the overall formulas. We start with whole pumpkins, grown in California, harvested from a pumpkin farmer we know and visit during harvest season. Lucy Pet uses the whole pumpkin (excluding the stem), and the pumpkin seeds are also utilized. Pumpkins are considered to be healthy for pets, and people too. Technically pumpkins are considered a member of the squash family of plants. They are a delicious nutritional powerhouse with fiber and protein that helps aid in healthy digestion. Pumpkin can help digestion, constipation, potentially assist in weight control, and helps with hairballs in cats.
People often eat pumpkin for the nutritional benefits including fiber, potassium, vitamins A, C, and E, as well as the antioxidant beta-carotene. People enjoy eating pumpkin seeds because they are rich in phytosterols and the amino acid tryptophan. When you select any one of our Lucy Pet Formulas for Life, you will see pumpkin on the ingredient label and can feel great about the benefit to your dog or cat.