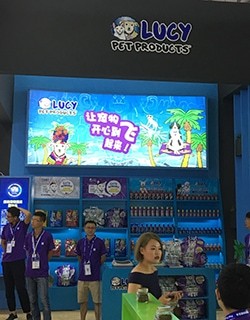 Lucy Pet Products are all made in plants located in the USA. Our Formulas for Life dog and cat foods are made in California, Lucy Pet shampoos, conditioners are made in California, and our Cats Incredible litter is made in Wyoming, California, Texas, and Pennsylvania. Did you know that we export our products worldwide to more than ten foreign markets?
Lucy Pet has quickly developed an excellent reputation around the world for the highest quality, and for our Products With A Cause message helping animals. We export Lucy Pet Products worldwide, such as Canada, Taiwan, Hong Kong, S. Korea, Japan, and mainland China. This week Lucy Pet Products are exhibited at Pet Fair Asia, in Shanghai, China.
Pet Fair Asia is an international trade show for pet supplies, taking place every year in Shanghai. The event draws retailers and distributors across China and other Asian countries and markets for pet products.
For more information on where to order Lucy Pet Products, see our International Distributor list here. If you are interested in becoming an Authorized Distributor Agent, please contact Lucy Pet Products International Sales Department by email at: exports@lucypetproducts.com
written by Rick Rockhill