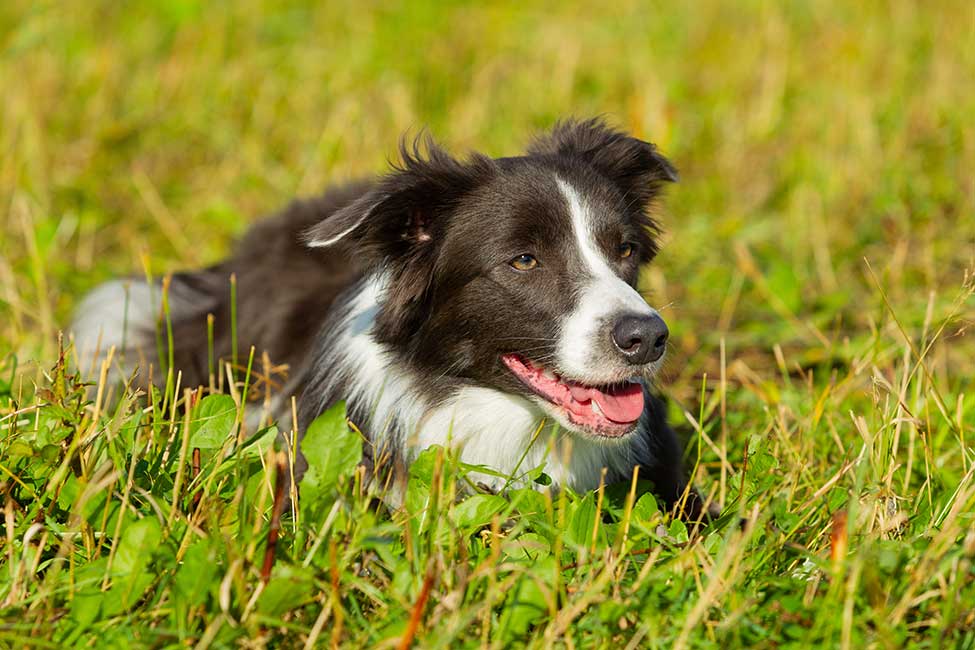 Interesting Facts About Border Collies: Top 10 Things You May (Or May Not) Know
As one of the hardest working dogs in the canine world, Border Collies are eager to please, nimble and intense dogs. They love their families – almost as much as they love to herd! Here are some other interesting facts about these spirited animals:
1)  What's In A Name?
In the Border Collie's case, quite a bit! In fact, their namesake is derived from their original stomping grounds. Originally raised in Scotland, Border Collie's flourished in the terrain between Scotland and England. Literally the border, where these lively pooches herded sheep for centuries. The word "collie" is actually Scotch in origin, and used to describe sheepdogs. Hence, the "Border Collie" moniker was born.
2)  All Hail the Queen:
Although the Border Collie has been a popular dog since the 19th century, the breed definitely rose to fame holding court with the Queen. That is, Queen Victoria of the United Kingdom of Great Britain. Several of her Collies accompanied the Queen wherever she went. When they passed on, she memorialized them in numerous ways, including paintings, statues of marble and figurines. Her profuse love of the breed enamored dog lovers in England and the United States with Border Collies even more in the early 20th century. According to the AKC, the breed ranks 35 of 195 – still a favorite across the US to this day.
3)  They Are the Champions:
Another fun fact about Border Collies, they are truly the champions among any herding breed. Although they were originally bred to herd sheep in the United Kingdom, they are still used to herd different types of livestock in farm/ranch settings. These dogs are excellent at herding not only because of their strength and stamina, but their innate work ethic, obedience, and highly intelligent tendencies. One of their secret weapons is known as "the eye". They use their powerful gaze to stare down members of the flock in order to intimidate (and herd) them into submission. The Border Collie's stellar herding reputation goes back quite far. In 1873, during a sheepdog trial in Wales, the crowd was in awe watching the Border Collies herd sheep into a tiny pen – guided solely by hand-signals and their owners' whistles!
4)  A Poet's Muse:
The Queen wasn't the only famous person who loved Border Collies. Renowned Scottish poet Robert Burns owned his own pet Border Collie by the name of Luath. He adored the dog so much that his death inspired one of the writer's best poems, "The Twa Dogs". This poem epitomized the special bond between man and his faithful companion. There have been numerous statues made to commemorate the famous poet, which features his beloved pooch right by his side.
5)

Come To My Rescue:
As if the Border Collie breed wasn't skillful enough, they're also excellent at search and rescue tasks. As described on the American Kennel Club site, a Border Collie named Blitz saved a 51-year-old woman's life in England. The lady had been missing for over a day. Jess Ellmore, a volunteer search & rescue handler, brought Blitz in to search the surrounding area. The dog found the missing woman beneath thick foliage in an area where she wouldn't have been visible to the human search crew. This is just one more amazing credential Border Collies can add to their résumé!
6)  Canine Book Of World Records:
Where do we even begin – the Border Collie breed has the world-record situation all tied up! For instance, there's a Border Collie named Chaser that's been widely regarded as the world's smartest dog. She knows the names of more than 1,000 objects! Yet another amazing record-breaker, a Border Collie from Québec City set the dog record for rolling down a manual car window. In other impressive news, another Border Collie named Jumpy holds the Guinness Book of World Records for: dog skateboarding! Apparently, the pooch was recorded skating 100 meters in less than 20 seconds. Talk about dog tricks!
7) Mutts On The Big Screen:
Did you know that Border Collies have been cast in dozens of movies and TV shows for decades? In fact, the breed's movie roster includes the 1995 comedy-drama film "Babe", as well as 2002's American adventure comedy film "Snow Dogs" and 1999's TV film "Animal Farm", along with a role in the 1990s hit TV series, "Mad About You," as well as "A Dog year" and so many more.
8)  Pup-arazzi Beware:
Who says celebrities have all the fun? Besides Queen Victoria, other famous folks who have owned Borders include musician Jon Bon Jovi, actor James Franco, golf pro-Tiger Woods, actress Anna Paquin, and legendary film star James Dean, according to the AKC.
9)   Nerd-Alert: Border Collies Are Brainiacs:
Yes, these fuzzy four-legged companions are also brilliant! According to Canine Journal, the Border Collie may even be considered one of the world's smartest dog breeds (quote). In his book "The Intelligence of Dogs" British Columbia neuropsychologist Stanley Coren uses the trainability of a dog to indicate its level of intelligence. Researching professional trainer's assessments of 110 dog breeds that were based on the dog's performance on working and obedience testing, Coren labeled the most intelligent dogs as those that obeyed commands heard five or fewer times with a 95% success rate. The top breed in this testing was the Border Collie. Now that's some impressive dog stats!
10)  So You Think You've Heard It All:
We've gone over quite a few interesting facts about Border Collies. But this one is pretty unusual, even by our standards. While Border Collies can hold various different types of jobs, did you know they've been known to hold down a career as a goose master? Yep, you heard it right: according to Goose Masters.com, a Florida-based company that literally means what it says, their services provide "an environmentally safe, humane, and effective way to control geese on any property with a goose problem, golf courses, beaches, and lakefront properties"…you get the picture. We'd love to see some video of this so-called goose-mastering in action!
Make Your Border Collie A Lucy Pet Dog!
Now that we've explored plenty of fun facts and trivia about Border Collies, one thing's for certain: no matter what these spunky dogs are up to, they need plenty of high-quality dog food to give them the energy to live their best lives! Consider premium dog kibble and treats from Lucy Pet, your source for natural pet food. Made from whole foods and the finest ingredients – minus fillers and byproducts you wouldn't want touching your dog's bowl – we proudly offer our quality line of dog and cat products, based on years of research and backed by science. You can feel good about giving your Border Collie Lucy Pet Formulas For Life™ dog food – with several delicious varieties to choose from, your dog will love the taste, and you'll love the fact that you're providing your pup with quality nutrition to fuel his next big adventure!
Sources Cited: