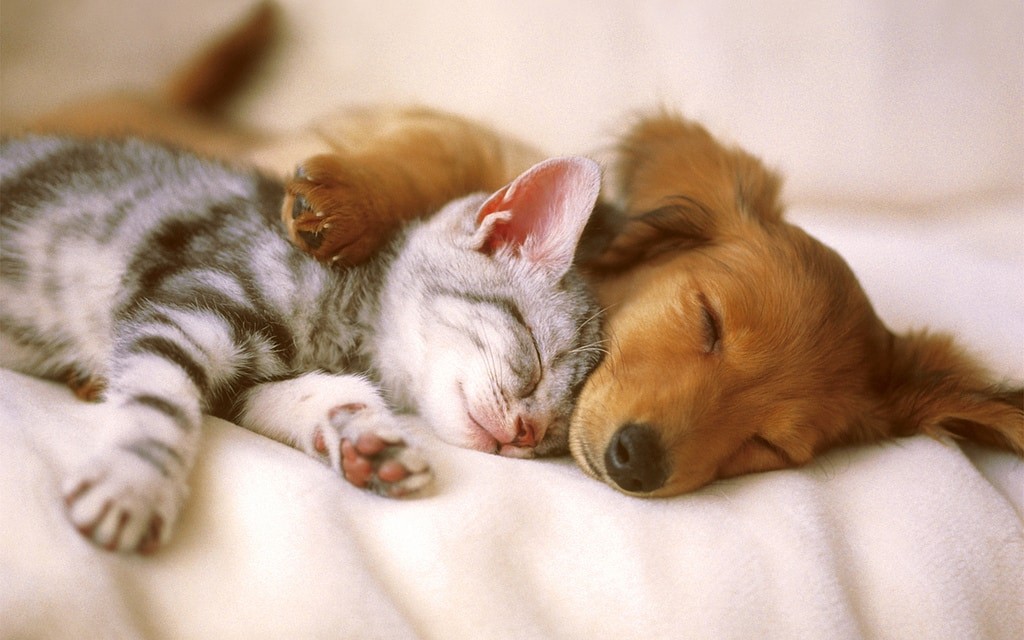 We all love our pets and want them to live a long healthy life. There are many things we can do as pet parents to give our furry friends the best opportunity to thrive. Maintaining a strong immune system is considered to be critical in helping dogs and cats quickly and effectively fight diseases or viruses. Scientists believe it is possible to improve the strength of the immune system and how it functions. But what is the immune system exactly?
Think of the immune system as a kind of monitoring and defense system for your pet's body. It is a collection of biological processes that work together as an alarm system 24 hours a day. It can recognize when foreign substances (such as a 

virus

, pathogenic bacteria, toxins, parasites, etc.) enter the body, and it springs into action to kill or eliminate them from the body. The impressive aspect of the immune system is that it is able to differentiate between the "bad" invading organisms from your pet's body's own cells and tissues.
In human biology, immunity is viewed as "the balanced state of having adequate biological defenses to fight infection, disease, or other unwanted biological invasion, while having adequate tolerance to avoid allergy and disease." This definition may be helpful to understand your pet's immune system and why it is so important.
If you want a bit more in-depth understanding, the immune system has two parts: the innate immune system and the adaptive immune system.
The innate immune system is considered to be the first line of defense for the body. It is designed to keep all the "bad stuff" out. It is called "nonadaptive", which means that while the body has repeated exposure to foreign substances, it will continue to fight them.The components include the skin, stomach acid, the 

respiratory

 system's mucous, and specific natural chemicals within saliva. The body also has types of cells whose role is to kill/eat basically eat anything the body views as foreign. These cells are called phagocytes, monocytes, and macrophages.
The adaptive immune system defends against specific foreign invaders and develops a memory of the various invaders they encounter. It reacts to antigen molecules and uses antibodies and cell immunity to purge your pet's body of unwelcome foreign substances.
Because the immune system is constantly working, it is important to keep it strong so it is always ready to react. As the body routinely encounters various foreign substances, a common result is an inflammation and some tissue destruction as the immune system responds and does its job. The disease occurs when this inflammation is excessive or is concentrated in an inappropriate location.  Scientists believe that the composition of the gut's intestinal microflora,  as well as genetics, may impact health. Recent discoveries are leading scientists to believe that the gut is a kind of "factory for immunity". Keeping your pet well nourished is an important part of staying healthy and strong. In particular, the type of nutrition you feed them can make a difference. Look for pet foods with antioxidant nutrients to support immune function and prebiotics that help nourish the gut.
Now that you know more about the immune system, here are some helpful tips on caring for your dog or cat:
Top 10 Tips to Support the Immune System
Feed the best nutrition (Choose a high quality complete & balanced food made with natural ingredients, using quality proteins, fibers, fats and carbohydrates that contain prebiotics, antioxidants & guaranteed omega levels.) Your local pet specialty store usually has the best selection of high quality foods, instead of the grocery store or mega discount stores. We recommend Lucy Pet Formulas for Life™ with P.B.F. Prebiotic Balanced Fiber™.
Regular Exercise (Keep your dog and cat healthy through regular exercise. Long walks, freestyle running at a park, indoor play with toys, etc.) 

Limit Unnecessary Stress

 (Allow your pet to eat in peace, have areas of the home they view as their own safe space, etc.)
Cleanliness– Avoid unnecessary germs at home and in public places. (Wash food bowls regularly, clean their bedding, and toys. For cats, be sure to keep the litter box clean, and limit exposure to ammonia that can form. We recommend using Lucy Pet Cats Incredible litter because it stops ammonia from forming). Be aware of where you take them in public to avoid unsanitary places where they could come into contact with toxins, poisons, dead animals, birds, etc.
Regular Grooming & Body Assessment (Groom your pet regularly to keep them clean . This includes rubbing your pet's body from head to tail to look for any changes in skin or bumps.)
Healthy Weight (Never let your dog or cat become obese. This puts enormous strain on the body and its organs.)
Pest Control

(Be sure to use a flea and tick control product to ensure your pet does not have infections from bug bites.)

Dental Hygiene (Brush your pet's teeth regularly. Oral hygiene is important because as your pet ages, gum disease and tooth decay can lead to a variety of serious health issues.)
Regular Vet Visits & Check U

ps

 

(Your veterinarian is a professional who can assess your pet's health and perform a wellness check )

Beware of Chemicals & Cleaners

 Be mindful of what chemicals you use in and around your home. Pesticides, cleaners, soaps, etc.can be harmful when ingested. When you use dangerous chemicals, ensure your pet is kept away from these areas and have the rooms well ventilated. Your pet has smaller lungs than you and is more susceptible to the harmful effects of breathing in chemicals. Consider too, that if your pet walks on a wet floor recently cleaned with a strong chemical or treated with a pest control, they will lick their paws out of instinct, and therefore ingest those harmful chemicals. As a general rule, strive to never expose your pet to strong harsh chemicals, cleaners or pesticides.
[/fusion_builder_column][/fusion_builder_row][/fusion_builder_container]