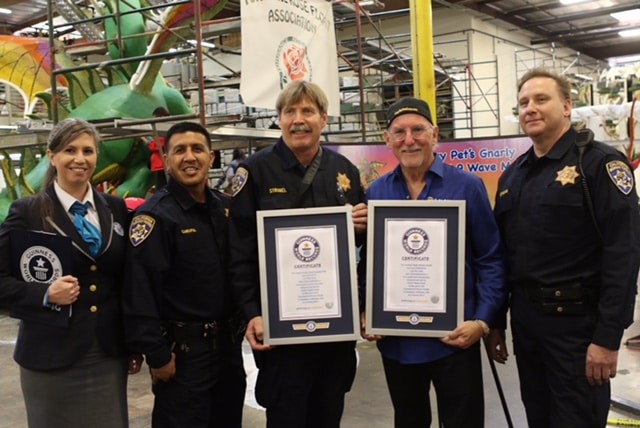 Lucy Pet Float – Guinness World Record
With 2017 just around the corner, we have been busy, busy, busy! How busy? Well we have been decorating our massive float, training all our awesome pups and setting world records. No big deal. In just a day two, all our hard work will have paid off for you all to see. Let's us share with you just what we have been up to!
If you didn't know, we are attending the Tournament of Roses-Rose Parade 2017 with our Gnarly Crankin' K-9 Wave Maker Rose Parade float. This massive float is holding not only our massive wave machine but also eight of the best surfing pups in the world! Surfin' Jack will be there joined by Coppertone, Macho, Rooster, Sully, Turbo, Haole, and Fred. Keep an eye out for these surfers. Alongside them we have bestselling author and soap opera star, Carolyn Hennesy joining the fun. Alongside Carolyn, we have the 13-year-old pop star sensation and social media guru, JoJo Siwa. Our float is jam packed, hence why we are breaking records.
Our float was officially certified by Guinness World Records as the Longest and Heaviest parade float in the world. The official length and weight for the Guinness World Record is 126 ft long and a whopping 148,200 pounds, or 74.1 tons! Now that is one heavy piece of machinery. Lucy Pet's Gnarly Crankin' K-9 Wave Maker Rose Parade float is already making history!
Come join us for the fun or enjoy the fun right from your living room, January 2nd, 2017! Trust us, you won't want to miss this! We wish you a very Happy New Years! Surfs up from all of us at Lucy Pet Products!