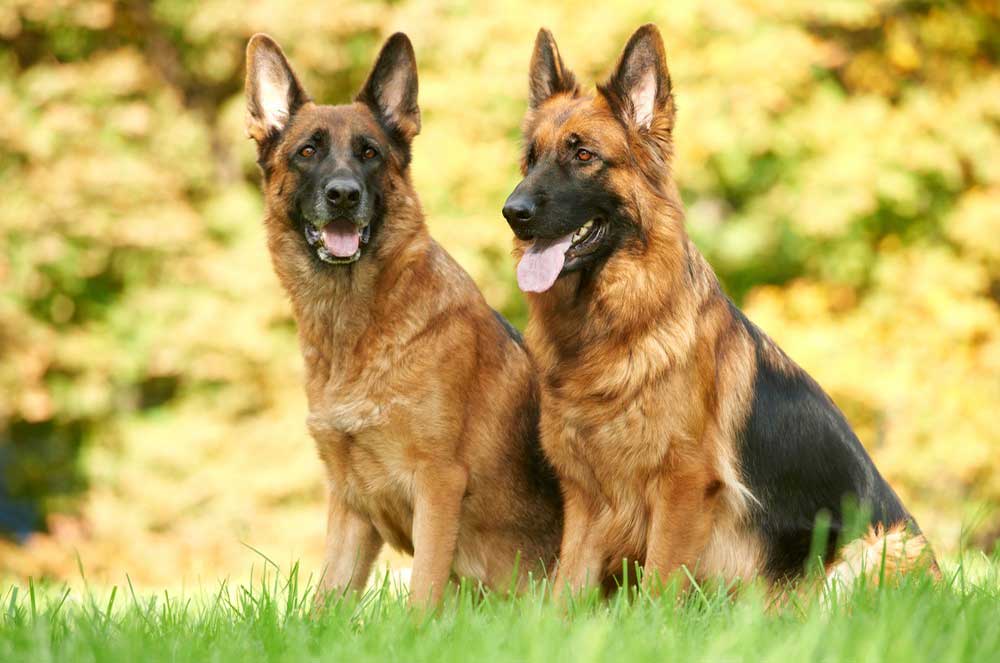 Do you own a German Shepherd? If so, you probably already know that you have one of the most lovable, loyal, and intelligent dogs ever bred. That said, there are probably some things you didn't know about German Shepherds that are sure to surprise and delight you.
Read on to learn 10 interesting facts about German Shepherd dogs! 
10 Interesting Facts About German Shepherds
#1 They're a 20th Century Breed
Of all the facts about German Shepherds, one that might surprise you most is that despite their current widespread popularity, the breed has only been around for a little more than a century.
Here's how it all started.
In 1889, on the eve of the 20th century, a German dog breeder and army man named Max von Stephanitz attended the Karlsruhe Dog Show in Western Germany. There, he was spellbound by a beautiful, "medium-sized yellow-and-gray wolf-like dog" named Hektor Linksrhein. A breeder of sheepherding dogs, Max had a keen eye and knew exactly what admirable qualities he was searching for. In just a few minutes of watching and interacting with Hektor, von Stephanitz knew that he had to have him. According to the German Shepherd Dog Club of America:
The dog was of the primal canine type, supple and powerful, and possessed endurance, steadiness, and intelligence. He was a working sheepherder, requiring no training other than direction and finish to become proficient at the task. Not to mention, the   was impeccable.
So, he purchased both Hektor and his brother, Luchs, with breeding in mind. After, he renamed Hektor to Horand von Grafath and registered him as the world's first Shepherd dog. 
#2 The Breed's Motto is "Utility and Intelligence"
Although Horand's beauty was undeniable, von Stephanitz didn't care nearly as much about a dog's beauty as he did its admirable traits. When he founded the Verin für Deutsche Schferhunde (SV), the very first German Shepherd Dog Club, he set up strict guidelines and breed standards. "Utility and intelligence" was to be the breed's motto. These working dogs were notable for their agreeable temperament, unparalleled loyalty, and obedience, as well as highly intelligent behavior.
Von Stephanitz adamantly believed that German Shepherds should be bred—first and foremost—for working and serving their master as effectively as possible. Intelligence, muscular grace, and temperament were far more important than outward appearance. And in his mind, any defects should be culled using the breeding process. To that end, his breed standards dictated a rigorous adherence to:
Gait

Structure

Attitude

Temperament

Obeisance
To achieve this and consolidate the bloodline, he inbred the broods of both Horand and Luchs heavily. According to the American Kennel Club:
Horand became the center-point of the breeding programs and was bred with dogs belonging to other society members that displayed desirable traits. Although fathering many pups, Horand's most successful was Hektor von Schwaben. Hektor was inbred with another of Horand's offspring and produced Beowulf, who later fathered a total of eighty-four pups, mostly through being inbred with Hektor's other offspring.
Von Stephanitz's uncompromising vision cemented the breed's legacy and ensured that its positive traits would continue to be passed down.
#3 They Were Repositioned as Worker Breed
With the coming of the Industrial Age, von Stephanitz foresaw the demand for shepherding dogs would likely decline. So, to prevent that eventuality and sustain their growing popularity, he reached out to police departments, service workers, and German army officers, advertising German Shepherds as:
Athletic

Tireless

Loyal

Fiercely protective

Obedient

Highly intelligent

Highly trainable
Naturally, all of these enviable qualities made them fantastic messengers and sentinels, and they soon found their warm welcome amongst the ranks.
#4 The First German Shepherd Dog was Exhibited in America in 1907
In 1907, Otto Gross, a German-born transplant, imported one of Horand's granddaughters. He named the exquisite puppy Mira von Offingen. Per Resi Gerritsen, "In 1907 and 1907 [Mira] was shown by H. Darymple of Port Allegheny, Pennsylvania in the open class at Newcastle and Philadelphia." The dog was met with great enthusiasm, but it wasn't until 1913 that they achieved success. Gerritsen writes, "The first two American champions, Herta von Ehrengrund and Luchs, won in 1913."
That same year, Benjamin Throop and Anne Tracy, along with 26 other members, founded the German Shepherd Dog Club of America. Two years later, they hosted their first specialty show with more than 40 German Shepherd dog entries.
#5 World War I Introduced Them to the American Public
Although they had been imported into the states for more than a decade prior to the Great War, one of the German Shepherd fun facts that might surprise you is that they didn't gain significant popularity until after Allies claimed victory and returned home.
During the war, the Germans used the working dogs for a variety of purposes:
Guard dogs – They would obediently and observantly man the trenches and ensure that allied forces were unable to sneak up on unsuspecting German troops.
Attack dogs – They would occasionally join charges and create chaos and fear during trench charges.
Mercy dogs – They would find wounded soldiers and bring them first aid.
Hospice dogs – They would provide comfort and companionship to mortally wounded soldiers until they passed.
Messenger dogs – They would be strapped with vests-of-sorts that allowed them to quickly carry messages along the front lines.
American soldiers were so enthralled by the dog's utility and appearance that many carried home with them tales of the well-behaved dog breed. Some even adopted their own dogs and brought them back to the States. As a result, they became an incredibly popular breed.
#6 Rin Tin Tin Saved a Movie Studio and Made Them a Sensation
One of the American soldiers that brought back a German Shepherd was Corporal Lee Duncan. In September of 1918, his battalion discovered a bombed-out dog kennel just outside of Lorraine, France. Amazingly, five pups and their mother had survived the bombing, only to be abandoned by the fleeing troops. The American soldiers freed them, and Duncan claimed two of the pups—a male and female—and named them Rin Tin Tin and Nannette.
After the war, Duncan sailed home with his rescue dogs in tow. Nannette tragically got sick during the crossing and soon passed. Rin Tin Tin, however, was healthy as could be. According to German Shepherd Lore,
Duncan took Rinty with him to several dog shows [in Los Angeles]. In 1922, he astounded everyone by jumping almost 12 feet during a show held by the Shepherd Dog Club of America. After the show, Charles Jones offered Duncan $350 to film the dog with his new moving picture camera. Duncan accepted and realized his dog's star potential.
After months of badgering studios to use Rin Tin Tin in their films, one struggling studio agreed to let Rinty play a wolf. Rinty managed the shot and wrapped the scene in a single take; the filmmakers were so impressed that they kept him on for the duration of the filming of "Man from Hell's River." 
The film was a hit success, much in part to the incredible and heroic pet. Americans loved him and clamored to get a German Shepherd of their own. After this, he went on to star in more than 30 pictures for the studio, single-handedly pulling it from the brink of financial ruin. That studio was Warner Brother's Pictures.
Now, wouldn't you agree that that might be the best out of the 10 interesting facts about German Shepherds?
#7 German Shepherds Became the Very First Service Dogs
In 1928, a German Shepherd named Buddy became the very first seeing eye dog to a man named Morris Frank. Buddy had been trained by Dorothy Harrison Eustis, an American ex-pat who ran a school in Switzerland. Seeing what an impact Buddy made in Frank's life, she returned home and established The Seeing Eye, a school created to train legions of seeing eye guide dogs.
Morris was so grateful for Buddy that he signed on as the managing director. The program was wildly successful and further cemented German Shepherd's legacy as a dog of serious import. Today, the school still operates and trains service dogs for the blind.
#8 They Are the Second Most Popular Dog in the U.S.
Today, German Shepherds are the second most popular dog in America, falling only behind Labrador Retrievers. According to best estimates, there are more than 78 million dogs in America. Of these, 4.6% of all registered dogs are German Shepherds, which means there are more than 3.5 million German Shepherds currently in the U.S.
#9 There are 11 Official Colors of German Shepherds
Although tan and black is the most common variation of the German shepherd breed, 11 colors are officially recognized by the American Kennel Club. These are:
Black

Tan

White

Liver

Sable

Black and cream

Black and red

Black and silver

Bi-color

Gray

Blue
#10 Many Other Breeds Spring from the German Shepherd Lineage
Over the years, German Shepherds have been crossbred with several other dogs or wolves in order to create varying breeds. These include:
The Czechoslovakian Vlcak

The King Shepherd

The Shiloh Shepherd

The White Swiss Shepherd

The East-European Shepherd
Facts About German Shepherd Dogs
As these interesting facts about German Shepherds illustrated, these dogs are a special breed. So, if you're lucky enough to be the proud owner of such a magnificent dog, it's your duty to provide them with all of the and nutrients that they need to do their job.
Lucy Pet can help you. Our precisely formulated kibble is jam-packed with all of the good ingredients necessary to ensure that your dog is strong, healthy, and ready to serve
Sources
German Shepherd Dog Club of America. The History of the German Shepherd Dog. https://www.gsdca.org/german-shepherd-dogs/breed-history
German Shepherd Rescue Elite. The History and Origin of the German Shepherd Dog. http://gsrelite.co.uk/the-history-origin-of-the-german-shepherd-dog/
Gerritsen, R. K9 Working Breeds: Characteristics and Capabilities. https://books.google.com/books
German Shepherd Lore. Rin Tin Tin. http://www.german-shepherd-lore.com/rin-tin-tin.html
My German Shepherd. Global GSD Population. https://mygermanshepherd.org/global-gsd-population-how-many-gsds-are-there-in-the-world/
7 Common German Shepherd Health Issues. https://www.lucypetproducts.com/blog/7-common-german-shepherd-health-issues
A Helpful Guide to the Best Food for German Shepherd Dogs. https://www.lucypetproducts.com/blog/a-helpful-guide-to-the-best-food-for-german-shepherd-dogs