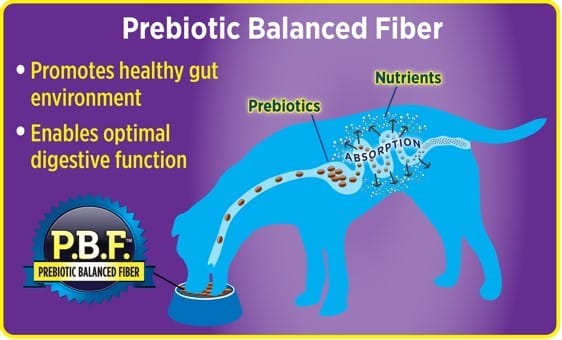 Why Gut Health?
The gut plays a key role in natural immunity to disease, and maintaining a healthy gut can contribute to a healthy dog or cat. Scientists believe that gut health can help the body through metabolism and symbiotic synergy with prebiotics. Your pet needs bacteria in the gut for a variety of reasons, such as healthy digestion, gut function, and more. Having a diverse blend of prebiotics provides nourishment for the gut bacteria, which in turn nourishes the entire body. Keeping your pet's immune system strong through healthy digestion and overall gut health is easy with Lucy Pet's P.B.F. Prebiotic Balanced Fiber™ formulas. This approach can be the first line of defense to help keep the entire body healthy. 
Scientists believe that dogs & cats eating a food with prebiotics have higher levels of beneficial bacteria, particularly Bifidobacterial and Lactobacilli. 

Nutritional scientists have found that prebiotics also improve regularity and stool quality. 

Lucy Pet P.B.F. Prebiotic Balanced Fiber™ uses advanced technology and goes far beyond other products using prebiotics today.
Your pet's intestinal tract handles challenges every day, so it is important to ensure your pet's diet supports the digestive system based on the latest nutritional advancements that exist today. Lucy Pet's P.B.F Prebiotic Balanced Fiber™ is based on the extensive nutritional research from one of the world's leading scientists at a major university. Lucy Pet Formulas for Life™ are an excellent choice to give your dog or cat the very latest nutritional benefits of fiber to support digestive health.