At Lucy Pet, we put as much love and care into our unique and colorful packaging as we do in the products themselves. We are serious about improving the lives of dogs and cats through innovative products with the latest advancements for health and well-being.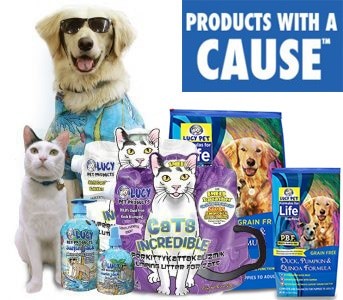 We believe that every pet deserves the very best. Lucy Pet's Formulas for Life ™ are made with high quality ingredients sourced globally from reputable suppliers we know and trust and have worked with for years. We do not source any ingredients from China. Our food formulas contain no duck by-products, no salmon by-products, no chicken by-products, no corn, wheat or soy, and no artificial preservatives, flavors or coloring. All of our products, from food, litter and shampoos and conditioners are manufactured in American facilities, providing jobs for Americans.
Our Products
Lucy Pet Formulas for Life ™ Dog and Cat foods with natural ingredients using new, advanced science with our exclusive P.B.F. Prebiotic Balanced Fiber for a healthy digestive system to feed the entire body in a truly unique way.
Lucy Pet Cats Incredible litter for Cats: With patent-pending breakthrough technology that stops dangerous ammonia from forming in the litter box.
Lucy Pet Shampoo and Leave-in Conditioners– Precisely pH formulated for advanced cleansing, nourishing and conditioning of the skin and coat.
Our Formulas for Life ™ dog and cat foods are made with truth in labeling, honesty in formulations and attention to detail. Our Quality Assurance Program gives you peace of mind that what you feed your cat or dog is safe with the highest quality. The health and safety of your pet are our top priority. We check every production run of our products before distribution so that you can be assured they meet our strict Quality Assurance Standards. If you are not satisfied, bring your receipt and the unused portion back to the place of purchase for a full refund or exchange, Our products can be found in pet specialty stores across the USA and are exported worldwide.