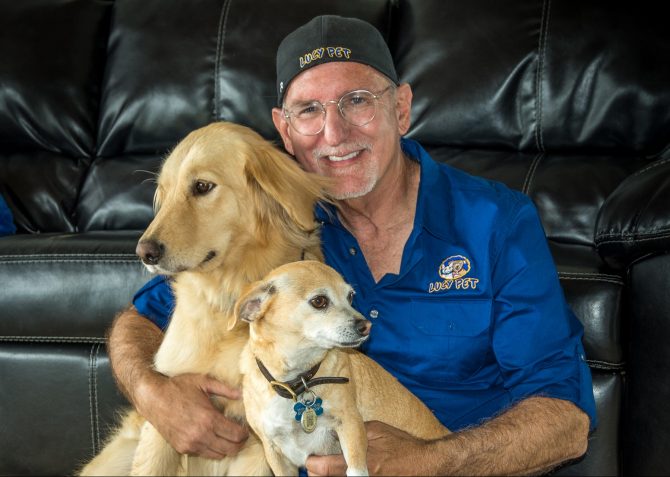 In the late 1980s, Joey Herrick started a quality pet food company that changed the face of the pet food industry – and it did.
So who exactly is Joey Herrick?
He was the founder and president of Natural Balance, starting the small cottage industry company in a van, delivering his quality pet food to local pet retailers around Southern CA. The company expanded over the next 25 years through word-of-mouth, dog-to-dog, and cat-to-cat, becoming one of the most beloved and trusted names in pet food through quality ingredients, caring customer service, and the love for animals.
In 2013, Joey sold the company and began a new path of giving back to the animals.
The Lucy Pet Foundation
Named after Lucy, his rescue dog, Joey began a new foundation.
"Dogs and cats provided me and my family a great life so I knew it was time I had to give back. I started The Lucy Pet Foundation in 2014 with the purpose to help stop pet overpopulation. By doing that, I knew it would lower the pet euthanasia rates in our shelters."
One Man's Plan to End Pet Over-Population
With the knowledge that over 80,000 unwanted dogs and cats were being euthanized in US pet shelters, Joey decided to take action. He bought and created the first Lucy Pet Mobile Spay & Neuter Bus…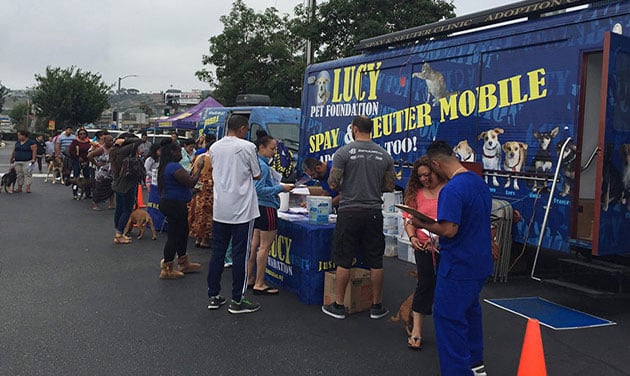 "Over six years ago when we started nobody knew us. It is very expensive to provide free spay and neuter and I spent millions of dollars of my own money doing it. I didn't really know how to fundraise, so I just did it myself. Luckily the City of Los Angeles heard about the reputation of the quality of services coming from the LPF bus and asked us to submit a bid for us to work for them."
"The Lucy Pet Foundation has done over 28,000 free spay and neuters in the Southern California area in conjunction with the City of Los Angeles Department of Animal Services and The Petco Foundation.
"It took time for the local communities to trust The Lucy Pet     Foundation to spay and neuter their pets. Word of mouth really helped the foundation grow. Today, communities that we go into know and trust the staff of LPF. They tell their friends to look for the blue bus!!!"
When Hurricane Harvey hit the Texas Gulf Coast region in late August 2017 the fate of many companion animals was up in the air, but thanks to the combined effort of the Lucy Pet Foundation, various rescue organizations and a World Series-winning athlete, dogs, and cats left homeless after the natural disaster recently found themselves on cloud nine as they boarded an airlift that flew them to their new lives in California.
Joey and his chief Veterinary Officer, Dr. Karen Halligan made several trips to the affected areas and personally attended to and transported many animals.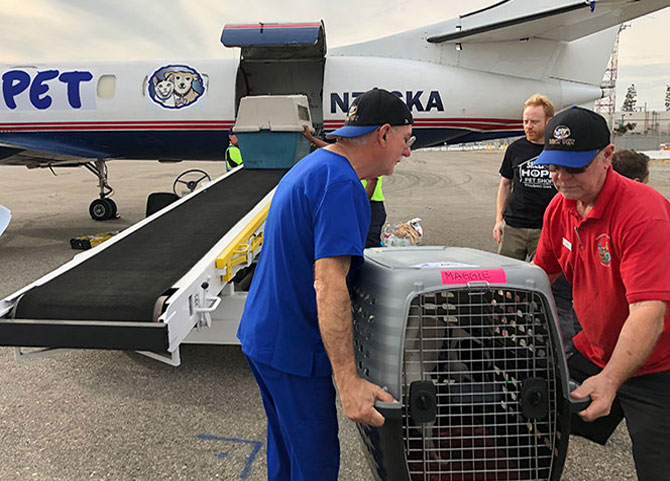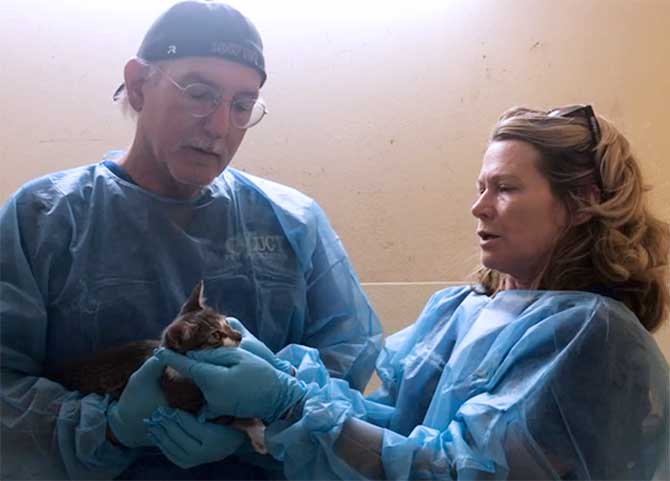 "I am very proud of The Lucy Pet Foundation. Not only have we done to date over 28,000 spay and neuters but we were actually deployed to Hurricane Harvey in 2017. Our Chief Veterinary Officer, Dr. Karen Halligan, became an incident commander for the SPCA of Brazoria County, 40 miles outside of Houston. We spent many days there helping the animals get through this catastrophe. We also did five airlifts, moving animals who had no homes out of the area to other states."
From Joey Herrick, a Trailblazer in the World of Natural Pet Foods comes
Lucy Pet Formulas For Life™
"I love my work with the Foundation but hated what was happening in the pet food industry. More and more companies coming into the industry only care about bottom line profits and not the health of the animals. Marketing fads such as high protein diets, which science has proven are not healthy for the animals, are marketed everywhere. Feed your dog like a wolf!!! Are you kidding me? Dogs haven't been wolves for 12,000 years. There are actually 36 specific DNA traits that make the wolf different than the dog."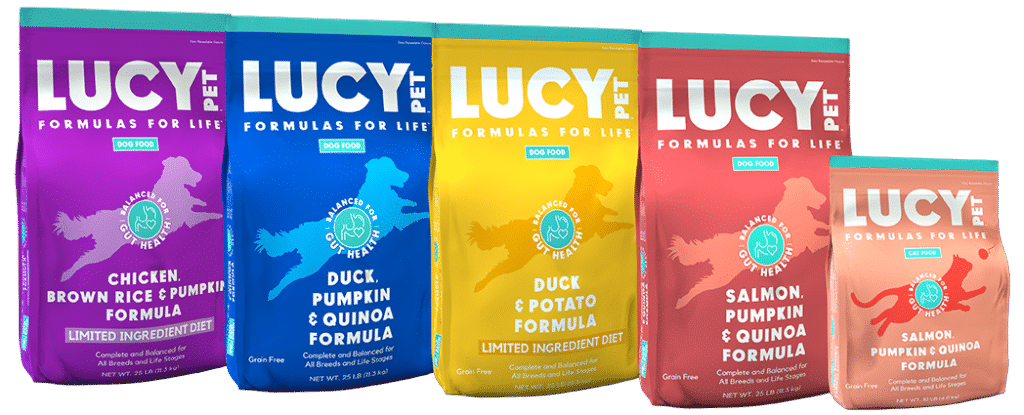 "Ten of those traits are specifically in digestion, which means that the dog can extract the glucose it needs for brain function and overall health from carbohydrates way better than it can from a meat protein.
I led the industry for many years and pioneered Limited Ingredient Diets, with such formulas as Duck and Potato, Sweet Potato & Venison, Green Pea and Duck. That's why I decided to come back and lead the pet food industry once again. I started Lucy Pet Formulas for Life based on 40 years of research from the nutritional guru of the industry, Dr. George C. Fahey. He gave us his research on the microbiome of the gut and the importance of gut health. We are the first company to actually talk about gut health and are leading the industry with it."
Lucy Pet Foods is now used by top trainers, veterinarians, and police departments. Read the many testimonials from people whose dogs and cats' lives have been changed for the better from these formulas.