Vote for your Favorite Retailer
Submit the name of your favorite Independent Pet Specialty store. They will have a chance to win $300 worth of Lucy Pet Formulas for Life Dog & Cat food!!
If your entry is selected in our random drawing, you will receive a FREE LARGE BAG of Lucy Pet Formulas for Life Dog or Cat Food!!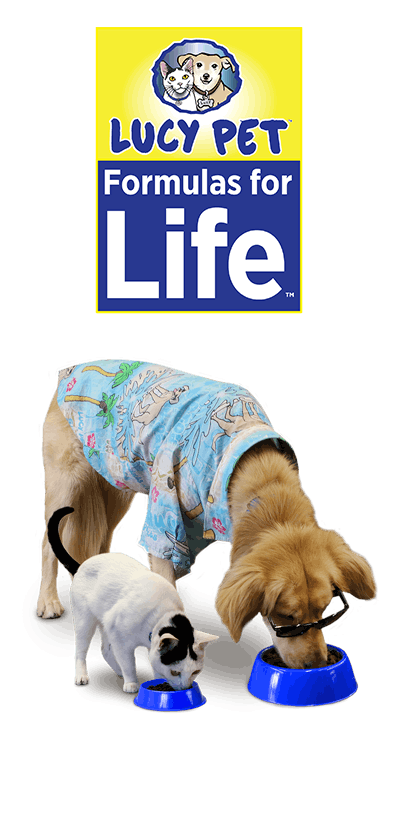 Your Content Goes Here
LUCY PET "YOUR FAVORITE RETAILER" SWEEPSTAKES OFFICIAL RULES
NO PURCHASE IS NECESSARY TO ENTER OR WIN. A PURCHASE WILL NOT INCREASE YOUR CHANCE OF WINNING.
This Sweepstakes ("Sweepstakes") is sponsored and run by Lucy Pet ("Sponsor"). Participation in the Sweepstakes constitutes entrant's full and unconditional agreement to and acceptance of these Official Rules, along with this website's Terms of Use and Privacy Statement.
Sweepstakes Period. The Sweepstakes will be a monthly draw; the first entry period commences at 12:01 A.M. PDT on May 1st, 2017, and ends at 11:59 P.M. PDT December 31st, 2017, and going forward on the 30th or 31st of each month at 11:59 P.M. PDT.
Eligibility. The Sweepstakes is open to anyone age 18 or older as of the date of entry who is a legal resident of the 50 United States or the District of Columbia, except where prohibited by law or in any state that would require advance registration of this Sweepstakes. Sweepstakes is void in Puerto Rico and U.S. territories and possessions. You are not eligible to participate in the Sweepstakes if you are not a legal resident of the 50 United States or D.C. Sweepstakes is void where restricted or prohibited by law. Employees, officers and directors of Lucy Pet (the "Sponsor"), and each of their respective subsidiaries, affiliates, promotion, advertising agencies, radio stations and anyone involved in the Sweepstakes' development or execution, the immediate family members (meaning spouses, parents, siblings, children and their respective spouses) of such employees, officers and directors and members of the households of such employees, officers and directors are not eligible.
How to Enter:
Entrants must complete the online registration process and submit their email address and telephone number via the web-based form on the website http://www.lucypetproducts.com/ww.lucypetproducts.com Limit one (1) entry per entrant. Personal information submitted by an entrant will be treated according to Lucy Pet's Privacy Policy. Sponsor reserves the right to deny any entry based on submission of incomplete information or non-compliance with these Official Rules. Sponsor is not responsible for late, lost, delayed, damaged, misdirected, incomplete, illegible, or unintelligible entries.
Winner Selection. All valid entries submitted by 11:59 P.M. PDT on the last day of each month (30th or 31st) (the "Cutoff Date") will be eligible for a random drawing to take place on or before the 2nd of each month through 2017. Any entry submitted after the Cutoff Date will not be eligible. The prizes will be awarded to the entrant who is selected through our random drawing. Odds of winning will be determined by the number of valid entries received. The winner will be notified by the email address and/or telephone number they used to register entry. The winner has three (3) days from email/telephone notification to respond and confirm the winning entry. If the initial winner does not respond within this period, then a second drawing will be held. If necessary, subsequent drawings will be held until there is a confirmed winner provided time permits. The winner shall be required to complete an affidavit or declaration of eligibility/liability and, where permitted by law, a publicity release, which must be signed and returned so that it is received by Sponsor within seven (7) days of the prize notification. Failure to comply may result in forfeiture of all rights to prize(s). Sponsor is not responsible for and shall not be liable for late, lost, misdirected, or unsuccessful efforts to notify winners.
The Retailer Winner will be awarded the following prize:
The Retailer selected as "Favorite Retailer" from consumer nominations will receive a credit of $300 USD toward the purchase of any variety of Lucy Pet Formulas for Life dog and cat food. Retailer must purchase Lucy Pet Food through an authorized distributor to qualify for the $300 USD credit. No cash value Can only be applied toward a new order. Retailer must be a brick and mortar pet specialty retailer located in the United States.
The Consumer winner will be awarded the following prize:
The winner receives by mail, one (1) voucher valid for a free 25 lb bag of Lucy Pet Formulas for Life Dog Food or a 10lb Lucy Pet Formulas for Life Cat Food. Voucher may only be redeemed at a pet specialty retail store and are not valid for online shopping and are not valid for use with any e-commerce sites. Voucher may not be photocopied or duplicated and are not valid without Lucy Pet embossed raised stamp. The winner is responsible for sales tax, as required by local law.
The Food Prize package will be awarded to one (1) randomly selected winner each month. Approximate Retail Value ("ARV"): $33.99.00 (Cat food) $79.00 (Dog Food). Taxes and other expenses not specifically identified in these Official Rules are the sole responsibility of the Food Prize winner. No transfer, substitution or cash equivalent for prizes is allowed except as deemed necessary by Sponsor. Sponsor reserves the right to substitute a prize of equal or greater value if a prize cannot be awarded as described for any reason. Limit one prize per person/family/household. If Food Prize winner does not provide a valid US mailing address, e-mail, and phone number, a winner will forfeit all rights to the prize. Sponsor is not responsible if potential Food Prize winner is unable or unavailable to accept the prize. If the Food Prize winner is not able or willing to travel to a local retail pet specialty store to redeem the free bag vouchers, the winner privileges and Food Prize will be terminated and an alternative Food Prize winner will be selected from the remaining eligible entries if time permits. Sponsor reserves the right, but is not obligated, to cancel or modify the Sweepstakes in its discretion and shall award a substitute prize of equal or greater value, which may include, but is not limited to, a cash prize equivalent to the ARV of the trip portion of the Food Prize as set forth in these Official Rules. All prizes are awarded "AS IS" and without warranty of any kind, express or implied, except as provided by the manufacturer.
General Terms and Conditions. By participating, entrants agree that Sponsor, its shareholders, agents and representatives, affiliates, subsidiaries, advertising, promotion and fulfillment agencies, and legal advisors are not responsible or liable for, and shall be released and held harmless from: (i) telephone, electronic, hardware or software program, network, Internet, or computer malfunctions, failures, or difficulties of any kind; (ii) any condition caused by events beyond the control of Sponsor that may cause the Sweepstakes to be disrupted or corrupted; (iii) any printing or typographical errors in any materials associated with the Sweepstakes; (iv) any and all losses, damages, rights, claims and actions of any kind in connection with or resulting from participation in the Sweepstakes, acceptance, possession, or use of any prize, including without limitation, personal injury, death, and property damage, and claims based on publicity rights, defamation, or invasion of privacy. Sponsor reserves the right, in its sole discretion, to amend and interpret these Official Rules at any time, and to terminate, suspend or cancel Sweepstakes at any time for any reason, including, without limitation, if a computer virus, bug, or other technical problem or security breach corrupts the administration, security, or proper conduct of the Sweepstakes. Participation in this Sweepstakes constitutes permission (except where prohibited by law) to use winner's name, hometown (including state or province) and/or likeness for promotional purposes without further compensation. All issues and questions concerning the construction, validity, interpretation and enforceability of these Official Rules, or the rights and obligations of participant and Sponsor in connection with the Sweepstakes, shall be governed by, and construed in accordance with the laws of the State of California, without giving effect to any choice of law or conflict of law rules or provisions (whether of the State of California or any other jurisdiction), that would cause the application of the laws of any jurisdiction other than the State of California. Any claim arising out of the foregoing shall be instituted solely in a court situated in Los Angeles County, California, and entrant and Sponsor irrevocably agree to submit to the personal and exclusive jurisdiction of such court. All federal, state and local laws and regulations apply.
A copy of these Official Rules and a winner's list may be obtained by sending an email request to  contest@lucypetproducts.com  not later than December 30, 2017.
All other trademarks are the property of their respective owners.