Honoring pet heroes who have saved human lives.
Watch the Rose Parade on Monday, January 1st, to see the brave animals that have saved and protected human lives on our incredible Lucy Pet "Paws for Life" float. From search and rescue dogs to a fearless feline, we salute these courageous animals for putting themselves in the line of danger to rescue and defend humans in need.
Meet Some of the Lucy Pet Heroes in the 2018 Rose Parade™
We are honored to share the stories of these amazing animals who show us all what it means to be a true hero!
Video Interviews Lucy Pet Heroes in the 2018 Rose Parade™
Lucy Pet Paws for Life Rose Parade 2018 KTLA5 Coverage
Lucy Pet predicts Rose Bowl winner 1pm 12 30 2017
KABC Guest Sirius Lucy Pet Paws for Life
KABC Guest Sirius Lucy Pet Paws for Life
Give your pet the gift of a healthy life, through better Gut Health – enter our Free Food for a Year contest.
See the Lucy Paws for Life Rose Parade Float
This is Lucy Pet's third Rose Parade, and we couldn't be more excited! The Rose Parade theme this year is "Making A Difference," and our float, "Paws for Life," honors animal heroes who, all together, have saved over 200 human lives! Look for us during the second half of the parade; we are float number 79. Tune in to the Rose Parade on January 1st starting at 8 am PST, or watch it live on Amazon Prime.
We worked with Fiesta Parade Floats—the most award-winning float builder in Rose Parade history to create an amazing float, fit for our animal heroes! Thousands of volunteers worked hundreds of hours to create our spectacular float, using organic plant materials including flowers, seeds, petals, bark, leaves, and more.

Fun Facts about the decoration of the Lucy Pet float
1. The black and white "photographs" which we refer to as "floral graphs" are decorated in 3 main materials -white sweet rice, black onion seed, and gray poppy seed- mixed and blended together to create 9 different and distinct color tones.
2. Approximately 500 volunteers will spend over 4000 hours decorating the float in addition to the "floral-graphs" created by a team of detail artist. The 8 floral-graphs took approximately 1000 decoration hours to complete.
3. Grass sod has been used on the platforms for the comfort of the dogs.
4. 20,000 red Freedom roses are used on the Lucy Pet float.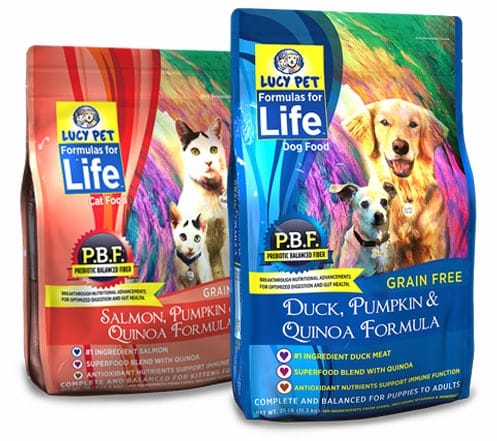 Lucy Pet: Formulas For Life
At Lucy Pet we strive to make a difference in animals lives by creating products, food, and services for a happy, healthy, and long-lasting life. Your purchase of Lucy Pet Products helps support the Lucy Pet Foundation, where we work tirelessly to reduce pet overpopulation and support animal welfare. Every week 60,000 animals are euthanized—a fact that is both heartbreaking and preventable. We are working to change all this through our mobile neuter, spay, and adoption clinics, and animal rescue efforts—because we believe that every animal matters, and that together we can make a difference!
Leading The Way in Pet Gut Health
In addition to saving lives, we want to give your pet the best chance at a happy, healthy, and long lasting life. It all starts with the food they eat, and gut health is key. Working with Dr. George C. Fahey, one of the world's foremost experts in gut health and dietary fiber, our pet food leads the way for gut health for pets. That's why we feature specially formulated prebiotics in our food, to support overall immune health—and longevity. An imbalance in the gut can cause digestive disorders including colitis, gas, bloating, indigestion, diarrhea, constipation, and leaky bowel syndrome. Our specially formulated Prebiotic Balanced Fiber works to restore and maintain balance in the gut, supporting your pet's natural immunity and overall health.
Win Pet Food for a Year—Up to an $840 Value!
Join our mailing list and get entered for your chance to win a year's supply of pet food.
Win a year of Lucy Pet Formulas for Life and give your pet health from the inside out. Gut health is the first line of defense to help keep your beloved pet healthy and strong. Our pet food features Prebiotic Balanced Fiber—a nutritional breakthrough in gut and digestive health for your pet.
The Lucy Pet Formula Promise:
GRAIN FREE * NO INGREDIENTS FROM CHINA

NO CORN, WHEAT OR SOY

NO ARTIFICIAL PRESERVATIVES, FLAVORS OR COLORS
Lucy Pet's Past Rose Parades
Click below to see the special guests, moments, themes, and outtakes from our past Rose Parade floats.
Featuring the Gnarly Crankin' K-9 Wave Maker – a world record setting float
Highlighting amazing rescue dogs